Back
Danum Gallery, Library and Museum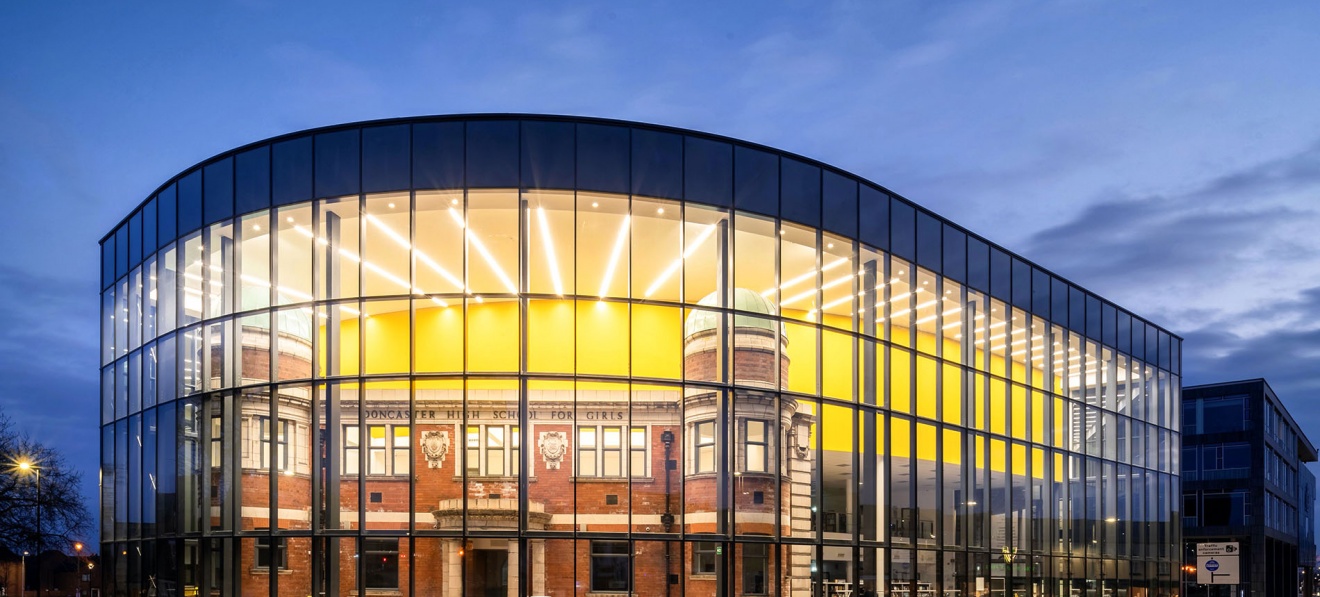 Ben Harrison Photography
Doncaster's spectacular Danum Gallery, Library and Museum is now open!
The Danum Gallery, Library and Museum is free to visit and open to all. If you want to contact the museum before you visit, you can call them on 01302 737555
Please note, in order to comply with social distancing guidelines, visitor numbers are currently limited so there may be a wait to enter on busy days.
The state of the art facility provides a unique blend of experiences.

The building includes the following features:
• A stylish café in keeping with its home within the former Girls' School building; here you can use tablet devices to read newspapers and magazines;
• Central Children's library – holding story times, playing chess and games, using Kindles, read with family, resources for teenagers, and with views across the locomotives in the Rail Heritage Centre;
• Central Library – including new and improved technology for self service, and new book stock;
• Changing Places accessible toilet facility;
• Charging points for laptops, tablets, smartphones in the building;
• Comfortable, stylish seating areas throughout the building;
• Doncaster Art Gallery, including the civic art collection, and a gallery suitable for touring collections from national galleries and museums;
• Doncaster Museum, including new displays and interpretations throughout – see a 1960S Doncaster living room, the Gresley shop, and our Museum of You.
• Free Wi-Fi throughout, and Wi-Fi enabled printing;
• A secure garden space on the south-side of the building, to enjoy with a book, to meet friends or take a drink from the café
• Go Create makerspace – a bookable space where groups and individuals can develop their digital creativity;
• King's Own Yorkshire Light Infantry Regimental Museum;
• Meeting rooms and conference facilities – available for long or short term bookings and micro / small business incubation;
• Accessible support - staff available to support you, working with mobile IT;
• Paddington Room – a stylish and well-resourced space, available for school groups and large group bookings;
• A pilgrim woman sculpture in the Girl's School stairwell; part of the Mayflower 400 events and national trail, and the Venus statue once present in the Doncaster High School For Girls, now returned home on loan from Hall Cross Academy;
• Public computers available, and also laptops and tablets so that you can sit anywhere in the building to do work, study, check emails and use the free internet;
• Rail Heritage Centre, containing wide-ranging artefacts from the Doncaster Grammar School Rail Heritage Collection, and two locomotives on loan from The National Railway Museum; also a space for school and visiting groups to study and take a lunch break.
• The restored former Doncaster High School for Girls, encased in the glass frontage of the building;
• Volunteer opportunities as Subject Matter Experts in the building.
More info about the new Danum Gallery, Library and Museum can be found at here