Back
Countdown to Christmas 2021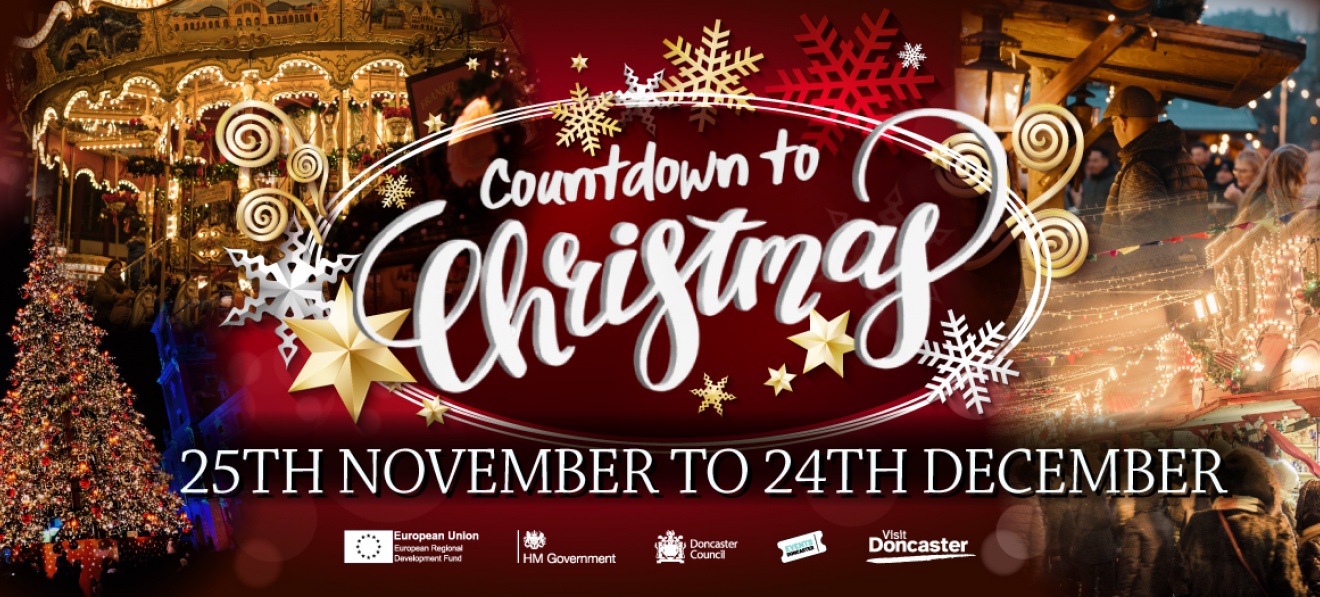 Venue/Location:

Various Locations

Date:

25 Nov 21 - 24 Dec 21

Tickets:

FREE
From Saturday 20th November you will notice the town centre will be lit up and looking pretty ready for Doncaster's Countdown to Christmas series of events which kick off from the 25th November. Here is a flavour of what you can expect…

In addition to the Right Up Our Street DN Festival of Light installation inside the Minster, there will also be two tipi in the Minster grounds which brings some of the excitement outdoors too. Read more about this event here: www.visitdoncaster.com//countdown-to-christmas-and-dn-festival-of-light
Fair in the Square 26th - 28th November
If you are visiting the DN Festival of Light, be sure to step back in time to a Traditional Christmas in the Town Centre. Vintage Fairground Rides, entertainment and fun for all with the Christmas Trail. If you take part in the Christmas Trail you can get on the rides for FREE too! More info about the trail can be found below.
Fairground rides opening times: Friday 4pm – 9pm | Saturday 10am – 9pm |Sunday 10am – 7pm
Explore Doncaster town centre this Christmas with our Christmas trail. Completing the trail also gets you a FREE ride on the vintage fairground rides too and enters you into a prize draw to win some fab prizes this Christmas. To take part all you need to do is pick up a trail card and then visit the trail locations which are the Frenchgate Shopping Centre, Doncaster Market, the Savoy Cinema and Doncaster Gallery, Library and Museum. You can also expect lots of treats and discounts along the way as you complete the trail. Read more about this event here: www.visitdoncaster.com/countdown-to-christmas-trail

*Please note you can alternatively pay to go on the fairground rides too*
Every weekend (Friday-Sunday) from the 26th November- 24th December, Clock Corner will be transformed into a Christmas wonderland with wooden cabins where you will be able to buy Christmas gifts, crafts and more from local handmakers and other retailers. Every Saturday, you can expect the return of the very popular 'It's On Us' campaign where TX1 Radio Station will be surprising lucky shoppers by paying for their shopping.
As well as all that you can expect lots of street entertainment, animation, face painters for the kids, you might even see Santa's elves and fairies make an appearance. We will also be giving away children's books too and much more! Read more about this event here: www.visitdoncaster.com/countdown-to-christmas-market

Remember the days when you would stand around the tree and sing carols. Well this is exactly what this event is about! It is putting the tradition back into Chrismas. So whether you are young or old, come along and experience a traditional festive experience with lots of music, dance, choirs, brass bands and more. You can also expect snow globes and hot chestnuts to keep you warm. So come along, sing carols and soak up the festive atmosphere. Read more about this event here: www.visitdoncaster.com/countdown-to-christmas-carols-in-the-square

5) Mansion House
You will be pleased to hear that there are plans to reopen the Mansion House this festive season. Watch this space...
This year not only are there all the great events happening in Doncaster town centre, but we will also be bringing the fun to a community near you! TX1 Radio Station will be taking the show on the road and bringing you all the best bits of Countdown to Christmas including entertainment, live music and competitions & giveaways. Click on the link to see the 16 locations of the roadshow. It is going to be one of those events that bring communities together and therefore one not to miss. Read more about this event here: www.visitdoncaster.com/countdown-to-christmas-community-roadshows