Back
Military history author to visit Victoria Cross Trust Charity Shop at Lakeside Village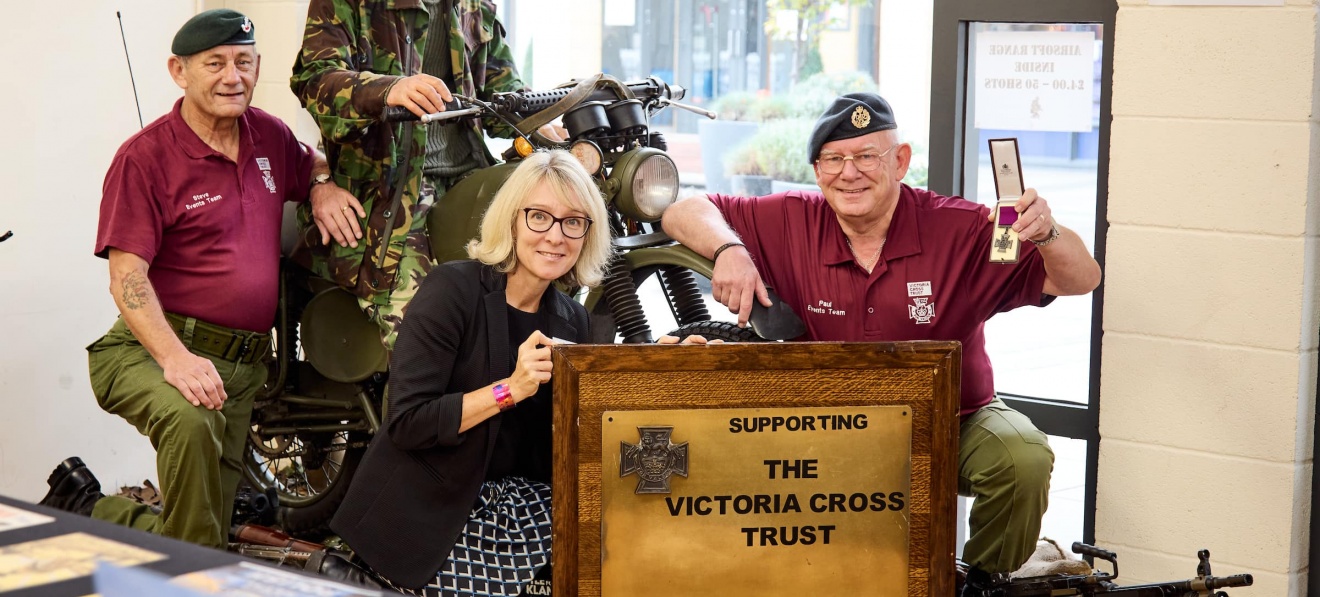 Venue/Location:

Lakeside Village

Date:

11 Dec 21

Tickets:

FREE
A military history author known for books telling the inspiring true stories of celebrated servicemen will visit the Victoria Cross Trust Charity Shop at Lakeside Village Shopping Outlet.
Neil Thornton will visit the shop, next to Baytree Interiors, on Saturday, December 11 from 10am until 4.30pm.
Neil will sign copies of his books, which include Todger, the story of Thomas 'Todger' Jones, the World War One hero awarded the Victoria Cross, Rorke's Drift – A New Perspective and Led by Lions.
Copies of some of Neil's books will be available for purchase, as will signed prints created by Neil's father which feature in the books.
The free event will also feature reenactors in uniforms from the Rorke's Drift period, World War One and World War Two.
A keen supporter of Victoria Cross Trust, Neil recently helped arrange permissions for the Trust to clean the graves of Todger Jones and a defender of Rorke's Drift in Runcorn Cemetery. The Trust will clean the Runcorn War Memorial early next year.
As well as books focused on Victoria Cross recipients, Neil has written about subjects including the Members of Parliament and their sons who fought in World War One.
The Victoria Cross, the highest British and Commonwealth Military award a soldier can receive, is awarded for extreme acts of bravery in the presence of the enemy.
The Victoria Cross Trust Charity Shop raises funds for the charity to continue its work cleaning graves of Victoria Cross recipients all over the UK and educating local communities and schools.
The pop-up shop sells a range of remembrance products, embroidery services and toys to raise funds. Displays in the shop include VC medal groups, Women's Land Army artifacts and a motorbike used in the Falklands War. There is also an Airsoft Range, supervised by ex-Servicemen, where customers can enjoy a safe and fun target shooting experience.
Paul Grimley, events coordinator at the Victoria Cross Trust, said: "Part of our mission is to educate and inform the public about the heroic actions of Victoria Cross recipients, including through presentations to schools and other groups. We believe it is important that the bravery and deeds of these men are not forgotten.
"Neil is very enthusiastic about VC recipients and has written several excellent books which explore their actions. His books are real page-turners and I'd recommend them to anyone with an interest in military history or stories of local heroes.
"We can't wait to welcome Neil to the Victoria Cross Trust Charity Shop to sign his books and support our work. We look forward to having lots of visitors to the shop to engage with Neil and our ex-Armed Forces team, learn about the Victoria Cross and buy Neil's books – a great Christmas gift!"
Di Rodgers, centre manager at Lakeside Village, said: "The Victoria Cross Trust do such important work and we're so pleased to have them at Lakeside Village. They receive no direct government funding and rely on fundraising and we're proud of the wonderful support our community have shown them.
"Neil is a renowned military history author and I'm sure the event will be a big success."
The Victoria Cross Trust Charity Shop at Lakeside Village is open every day. For more information, please visit www.lakeside-village.co.uk
Date and time
11 Dec 21, 10:00
Location
Lakeside Village Shopping Outlet White Rose way
Doncaster
South Yorkshire
DN4 5JH
Opening Times
Monday - Friday
10am - 6pm