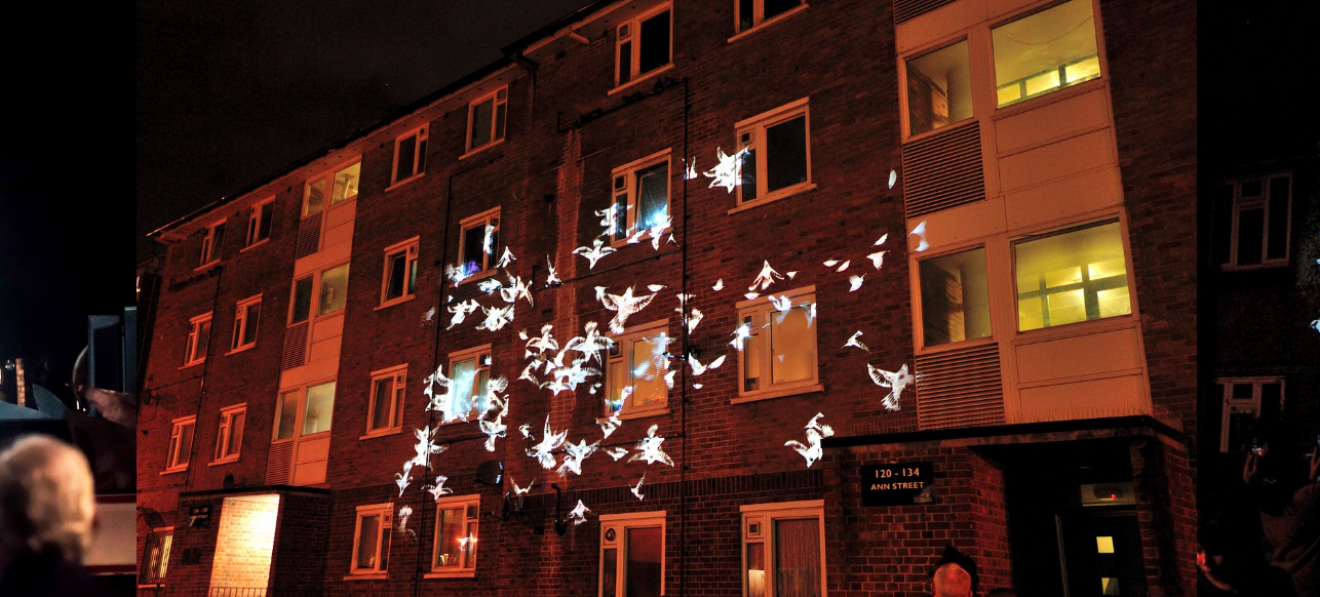 Venue/Location:

Right Up Our Street

Date:

7 Feb 23 - 11 Feb 23

Tickets:

Free
Mystery Bird is coming to a street near you!
Mystery Bird is an illuminated bird cage with a magical soundtrack that will travel along the streets of your area, before coming to a halt and setting a magical projection of birds free across your homes and buildings.
It will visit you on a flatbed truck and will run on an 8 minute loop.
This is a Quays Culture UK commission – www.quaysculture.com
"Birds are symbolic of hope and our desire for freedom and engagement with nature is widely recognised as inherently positive for humans - making us feel alive and connected to our fragile eco-system. "
— Quays Culture
Paper artist and bird designer - Helen Musselwhite
Vocal artist - Jason Singh
Projection team - Illuminos
Local fabricators - M3 Industries
Digital expert - Jack Hardiker
Where is Mystery Bird Visiting?
Mystery bird is running for 5 nights and is visiting the below locations.
TUESDAY 7TH FEBRUARY, 4PM-8PM - ADWICK & CARCROFT
WEDNESDAY 8TH FEBRUARY, 4PM-8PM - KIRK SANDALL & EDENTHORPE
THURSDAY 9TH FEBRUARY, 4PM-8PM - BARNBY DUN & STAINFORTH
FRIDAY 10TH FEBRUARY, 4PM-8PM - BALBY
SATURDAY 11TH FEBRUARY, 4PM-8PM - ROSSINGTON
*Specific routes will be confirmed closer to the time.*