The animals at award-winning Yorkshire Wildlife Park enjoy a special treat donated by Bluebell Wood Children's Hospice.
The animals at Yorkshire Wildlife Park were given a treat yesterday thanks to a consignment of Christmas trees donated by Bluebell Wood Children's Hospice.
The Rhinos were first to enjoy firs fun followed by the curious Lemurs and the Polar Bears.
The South Yorkshire Hospice has been busy collecting real trees across the region in return for a small donation to the hospice as part of its first ever Christmas tree recycling service.
After a year in which much of its fundraising activity has been cancelled or postponed, the service has provided a much-needed boost for the hospice which needs to raise almost £14,000 each day to keep its doors open.
Bluebell Wood set aside 30 trees for Yorkshire Wildlife Park, which were delivered last Friday and given to the animals in the last few days as part of the park's enrichment programme.
Sam Wood, Head of Fundraising at Bluebell Wood, said: "Our Christmas tree recycling service has surpassed our expectations and we're very pleased to be giving so many people the peace of mind that their trees will be disposed of in an ethical and environmentally way.
"Many of those we've collected will be chipped and turned into mulch to grow new trees, as well as being used in the beautiful gardens at the hospice which offer a tranquil setting where the families in our care can unwind.
"So when we discovered that Yorkshire Wildlife Park would like some trees for their animals and the Project Polar reserve, we were over the moon. It fits perfectly with our ethos and I'm sure those who used the service will be delighted to know the trees are going to such a wonderful new home.
"We'd like to say a huge thank you to all those who've used our recycling service this year as well as our business partners who made it all possible; your support will help us to be a light in the darkness for local children and families through the challenging weeks and months ahead."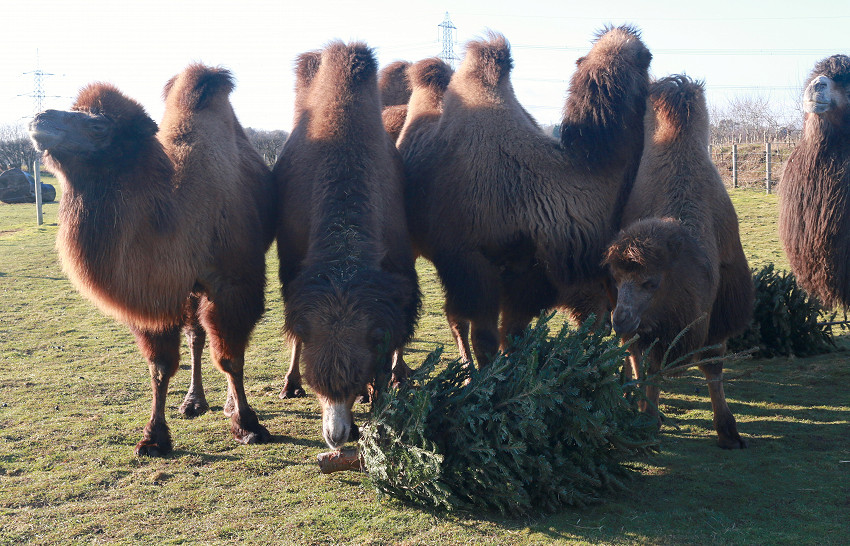 YWP's Animal Manager Debbie Porter said: "We can't thank Bluebell Wood enough for their kind donation. It's great to see the trees being recycled, and our animals, including the Polar Bears, definitely enjoyed exploring them.
"Bluebell Wood is a fantastic charity and we know just how tough raising money and donations can be but it's lovely to see them continuing their efforts in whatever way they can."
Posted: 27 January 2021
You may also like...