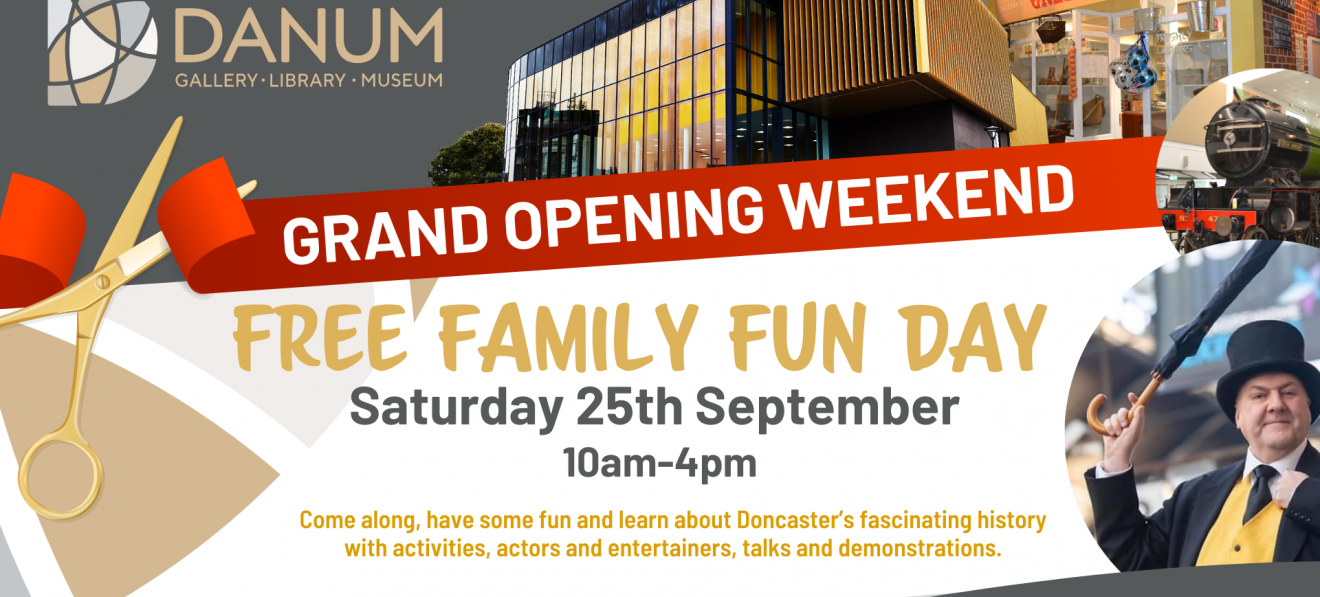 Venue/Location:

Danum Gallery, Library and Museum

Date:

25 Sep 21
It's Family Fun Day on Saturday 25 September at Danum Gallery, Library and Museum.
As part of the grand opening weekend celebration, there's lots of additional entertainment, dedicated events, talks and special guest appearances. It will bring an added dimension to a visit to this wonderful attraction. Come along with family and friends and join in the fun.
The doors open from 10am to 4pm and below are some of the highlights:
• The Fat Controller will be inspecting our engines in the Rail Heritage Centre and telling people all about them.
• Make a pop-up steam train in the Rail Heritage Centre and enjoy other craft sessions throughout the day.
• Call in and meet the ShopKeeper at Gresley's corner store.
• See Fantastic Mr Fox and Mrs Fox in the Library, Children's Library and café area.
• The Mad Hatter and White Rabbit from Alice in Wonderland will be wandering around.
• Join in 'Rhyme Time' – singing and stories in the Children's Library space.
• Enjoy an insightful talk from Rachel Carter on her Pilgrim Woman Doncaster sculpture and the whole project in the Paddington Room from 11am to 12noon. Films about her Spirit of Mayflower project will be shown too. As part of the project she travelled the Atlantic in a freight ship, studied indigenous art at Harvard University and completed an artist residency at the Pilgrim Monument and Museum.
• Take part in a macramé workshop by Rachel Carter in the Paddington Room from 1.30pm to 3.30pm (limited to 50 places). You will create a key ring using some of the techniques Rachel used to create the textures on the sculpture.
• In the museum space you will have the opportunity to handle items from our past including fossils, roman history and Victorian toys.
• Reminisce about the 1960's in the museum area, looking at iconic items of that era.
• Outside the main entrance we have the 'Moving Museum' which will showcase Heritage Doncaster objects, community contributions and oral history. Alongside this will be the famous Ford Popular car which was originally built in Doncaster.
And, there's more fun things in the nearby Sir Nigel Gresley Square with the Doncaster Folk Festival Day of Dance. It features the Green Oak Morris Men, Yorkshire Chandelier and North British Sword. All superb performances. This takes place from 10.30am to 11.30am on the Saturday.
All of this will provide added sparkle to a tremendous FREE day out and experience for the whole family. There will be a new dimension to many of the exhibits, displays and all the things to see and do.
Everyone is encouraged to come along to have a look round the wonderful museums, enjoy the great art gallery, use the modern library services, see the remarkable rail heritage centre and explore the fascinating building. People can also visit the café and the gift shop.
It will be a truly great day out!