Back
DN Festival of Light 2022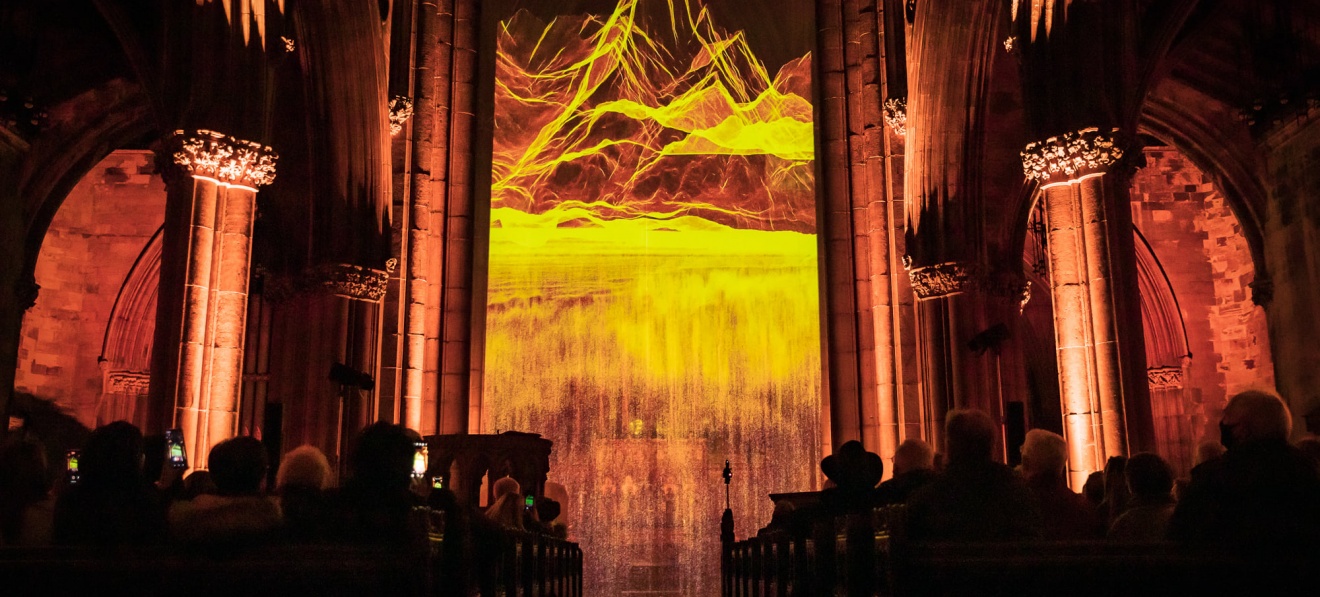 Date:

18 Nov 22 - 20 Nov 22

Tickets:

Free
The DN Festival of Light is Right Up Our Street's winter festival, it celebrates the diversity of our town by bringing different communities together in one space to engage in the arts and culture.
THIS YEAR THE FESTIVAL WILL TAKE PLACE ACROSS TWO SITES!
ST GEORGE'S MINSTER & THE CORN EXCHANGE
This year, as part of Right Up Our Street's 10 Anniversary, they are pleased to be delivering festival activity across two venues.
St George's Minster
Booking Information: To access the artwork at the Minster you must book your free ticket. Slots will operate on a half an hour basis. Tickets available to book 11th Oct.
THE ARTWORK
1.3 Seconds by Guillaume Marmin
With the space travel theme in mind, the installation by Guillaume Marmin gets its name from the time it takes for light to travel from the earth to the moon at a velocity of 300 000km/s. Originally inspired by the church's columns, stained glass windows and overall gothic style, visitors are given glimpses of the architectural details as lights flash and illuminate the grand space of the Minster. The contrast between the darkness and flashes of light immerses the audience in an almost overwhelming experience that intends to play with the perception of the existing space.
(WARNING: This artwork may potentially trigger seizures for people with photosensitive epilepsy. Viewer discretion is advised.)
The Corn Exchange
Booking Information: You do not need to book a ticket to see this artwork.
THE ARTWORK
WE RISE by Greenaway & Greenaway
Greenaway & Greenaway was established in 2009 by brothers Jude and Jolyon, who work collaboratively through a variety of creative disciplines, crafting artistic and commercial work that allows for the exploration between the audio and visual arts. Their unique skill set allows them to move freely between sound and vision, forging work that is constantly pushing both mediums and wherever possible, bringing both these art forms together in a single, complete project.
Greenaway & Greenaway are creating a spectacle that has been commissioned by Right Up Our Street for the DN Festival of Light central artwork to be projected on the Corn Exchange in November. This piece is about telling the story of Doncaster through the eyes of the people, creating a unique film.
"Greenaway & Greenaway are really excited to be working with the communities of Doncaster to create a unique Audio/Visual artwork for this years Festival of Light. Doncaster has such a rich history, such a deep sense of pride and so many vibrant communities and stories ready to tell. Already our minds are whirring and we havent even scratched the surface!"
Book now
Date and time
18 Nov 22, 20:00 - 20 Nov 22, 22:30
Ticket information
This event is free but ticketed so please get your tickets by clicking 'book now'