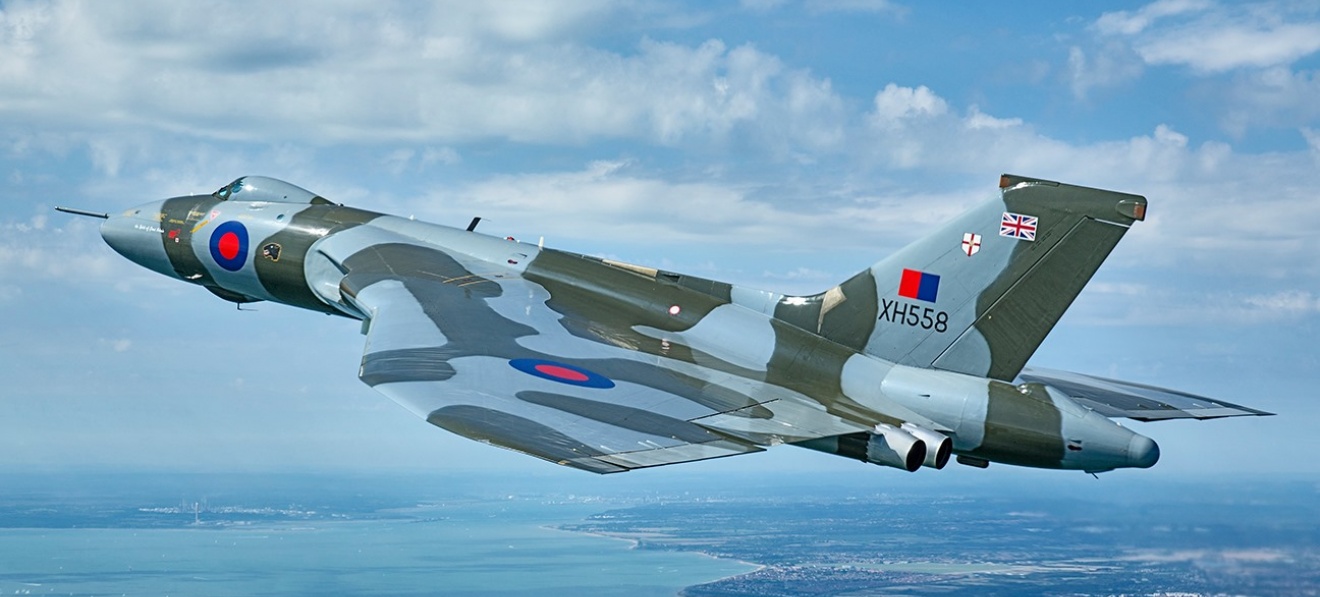 PLEASE NOTE THAT THE VULCAN EXPERIENCE IS FOR PRE-BOOKED VISITS ONLY.
The Avro Vulcan is an iconic example of British aerospace engineering at its world-beating best. Its impressive list of technical achievements includes being the first successful large delta wing aircraft, leading directly to Concorde and the Space Shuttle, and delivering performance and agility so close to a jet fighter's that it was given a fighter-style control column in place of the traditional bomber pilot's yoke. That agility allowed XH558 to deliver amazing air displays, which unfortunately finished in 2015, but there are great plans to use her as an inspirational centrepiece in a future ETNA Centre. Now the Trust is expanding its horizons with inspirational work to demonstrate engineering excellence in early generation jet-engine aircraft with the planned restoration of Canberra WK163. Keep in touch with our newsletters to find out more.
XH558 is an iconic example of that remarkable period of intense post-war innovation that made British aviation technology the envy of the world. As the many displays at her hangar demonstrate, this allowed her to play a fascinating role in keeping the peace during the Cold War, a period of terrifying global tension. It's a truly remarkable story.
Vulcan to the Sky Trust already has an established education programme, working with schools, colleges and other organisations. In her new life, still able to accelerate dramatically along the runway, XH558 will build on this exciting provenance to inspire and educate new generations of young people, focussing on the technical skills that our country needs so badly.
Vulcan XH558 flew again thanks to the generosity of her supporters who give their time and money to supplement the Trust's commercial income. She would not have flown without them. If you would like to join this group and play your part in maintaining Vulcan XH558 as well as helping the Trust deliver other exciting heritage aviation projects - please click the Support button in the right column of this page.
Thank you to everyone who has helped to make this remarkable story happen.XH558 ceased flying in October 2015, but that is now the beginning of a new exciting chapter in her story. One you could help write. See our appeal details at the top of this page to learn of the interim plans ahead and how you might help.